Honey Bee Haven
The Black Bee Experience
Enjoy a truly unique Bee Experience
Bees offer a truly amazing journey for everyone. It doesn't matter whether it's through a talk or an in-hive visit, you will have a once in a lifetime adventure.

Whether you book a talk or a hive experience, not only will you learn about the live of bees and the secrets of the beehive, but you will come away from a experience knowing how you can help save the bees in easy steps.
In-hive experiences
You will be taken on a journey though the live of the bee, and how important they are to our whole environment. I will take you through planting for bees and you will get to make seed bombs which are an excellent way to help save bees, even if you don't have a garden.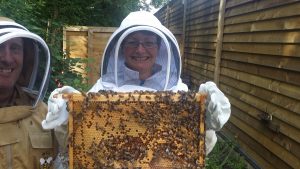 If you come into the hives with me, you will see bees making honey, creating honeycomb and even being born. If you're very lucky you might even get to see the queen. What's more, if the bees allow you will get to taste raw honey, trust me it is like nothing you have ever tasted before.
Come with me inside the bee hive……..
Bee Talks
If you can't come to me, then I can come to you (minus the bees). Through the power of story I will take you through the lore of the bees, their live inside the beehive and how important they are to all of us. You will also learn how you can help save the bees with only small changes to your live.
Let me come to you and enthral you with tales of bees…
Whichever you choose, I will try and make it an experience you never forget.