Honey Bee Haven
The Black Bee Experience
Join me on a journey of your lifetime into a bee hive
Imagine this… it's a warm summers day. The air is vibrating with the gentle buzz of honeybees as they go about their work.  You can smell the subtle fragrance of beeswax in the air.
Looking through the mesh on your bee veil you can see the frame of honey in your hand.   You push a finger slowly into the wax, past it's point of resistance. The honey erupts over your finger.
As you put your finger to your tongue you can feel the warmth of the honey, it's sweetness like nothing you've tasted before.  You give it a moment for the flavours to settle, it tastes of apple, the very flower it came from that morning.
Now isn't that something to experience?
Honeybees create an amazing buzz. They offer a unique opportunity for you to get close to a truly prehistoric wild animal and experience it's magic up close.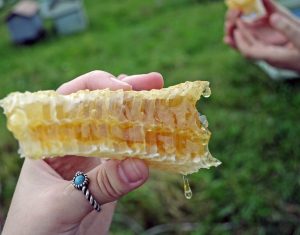 Whats more you can learn how you can help save them, and ensure that this cornerstone of our environment is protected for generations to come.
The experiences last approximately 1 hour and include:
The lore of bees
Their importance in the world
How you can help save them
Explore a bee hive (bee suit provided)
Tasting raw honey
I will provide the bee suits and all materials EXCEPT wellies – I suggest you bring some if you have them, or other sturdy footwear (no I wouldn't bother with flip-flops).
Booking an experience
Large Groups
If you are booking for a group larger than 10 please call me on 0161 920 7171 so I can tailor it your particular groups interests. 
Upcoming Experiences
Just click on the experience that would be best for you and it will take you straight through to the booking form.
Samlesbury Bee Centre Experiences
August 29th @ 1pm
If you can't find a date that suits you, you can either contact me directly through the contact form, and I'll see about making sure the next experience is on a date that is suitable for you.  Take me to the contact form.